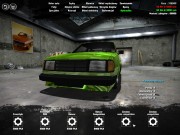 See for yourself who'll be the next king of the neighbourhood. Enter the world of night racing and lowrider competitions.
Buy your ride and keep it in a good condition to compete with other pretenders. Tune it up in your garage to achieve the best performance, change engine parts, switch gearboxes and other stuff to make your wheels spin as fast as possible.
If you're a good tuner, you'll so......
詳細は、こちら