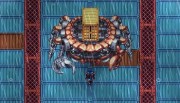 CrossCode combines retro-style 2D graphics with the unique theme of
throwing energy balls at everything.
By throwing balls you will:
Solve challenging puzzles
Defeat many enemies and master epic boss fights
Interact with your surroundings
All this gets delivered as a plot-driven Action-RPG. Now that's at least the plan. The development of CrossCode is still at a very early stage.......
詳細は、こちら