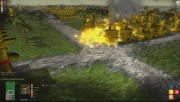 This is a Real-Time-Strategy game on plot of Indian great epic Ramayana. The story in the game starts from Rama & Lakshmana's search of Sita.
The game contains 20 campaign based on the story of the epic. First 2 campaigns are mostly tutorial.
The game supports skirmish with 2 factions: Vaanara and Rakshasa; maximum of 8 teams.
Each factions have worker units who can gather resources: f......
詳細は、こちら