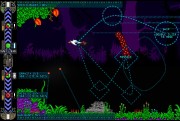 An ultra-modern tactical UI, an 80's arcade shooter theme, a sprinkle of physics and gravity bending, some classic shooter inspiration, a dark plot, some mild RPG-like progression, and you've got a tactical 2D shooter like no other. It's about tactics, not reflex. Your move.
Initially for Windows, Mac and Linux, followed by Tablet (iOS and Android).
A ship severely damaged and broken on th......
詳細は、こちら