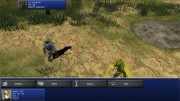 Soul Balance is a turn-based RPG featuring a focus on storytelling and character building. It's a world where myth meets science; where magic meets technology.
The player takes on the role of Emily, the sole survivor of the Royal Family, as she slowly comes to terms with her fate--and builds up an army to re-take the throne.
Soul Balance features four unique forms of combat: Melee, Firearm......
詳細は、こちら