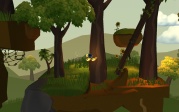 Bob has crashed on a strange planet, lost a bunch of parts for his ship and above all, is late for work!!
Find the lost parts and rebuild your ship along the way to solve challenging, physics-based puzzles. You can build your ship any way you like in the ship builder – try to find the coolest ship-design for the puzzle at hand!
体験版のダウンロードは、以下公式サイトの動画下の「Try out for free」より
[Official Site]へ...
詳細は、こちら