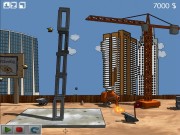 ChaosTower is now available on Greenlight.
It would be nice if you support me and vote for my game on Greenlight (Steam):
ChaosTower
Chaostower is a physics-based action puzzler.
Built a tower from a whole bunch of different parts and prove it against several natural forces like earthquakes, wind and meteors.
Defend your tower against artificial enemies, like robots, tanks, bomb-bir......
詳細は、こちら