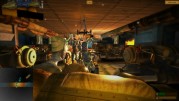 Spocean is a team-based, galleon-crewing multiplayer game for PC and Mac.
Features include:
- 18th century style naval warfare from a first person, crew perspective.
- Team-based multiplayer gameplay.
- Seamless combination of fleet tactics with ship management and boarding combat.
- Immersive "woodpunk" setting.
Spocean provides a refreshing new kind of multiplayer gameplay: Tea......
詳細は、こちら