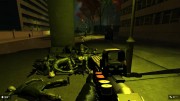 In future not far from now, year 2030. One city was abandoned, people escaped and tried to leave the city for unknown reason.
Many succeed, some unconcern decidedly stayed but they banished mysteriously. It became a ghost city, filled of silence, of mysterious sound.
A year past the silence of the street was no more.
One after another appeared strange being.. started to roam the city.. Count......
詳細は、こちら