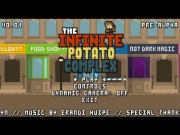 The Infinite Potato Complex, in the simplest terms, is a game about shooting potatoes at evil robots. We made it in a week for the itch.io Potato Salad Jam and loved it so much we want to take it further.
At the moment, this game has a lot of potential, and we want to harness that in order to create the ultimate potato-based action game of all time!
The game in its current form is available......
詳細は、こちら