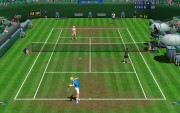 Tennis Elbow 2011 is a tennis simulation with an easy and intuitive learning curve, but with exceptional gameplay depth.
In this tennis game, you'll have to show all your tactical skills, use an iron mind and quick reflexes, as well as a sharp eye to guess the ball trajectories, all of this to choose your next strike wisely.
To beat your opponent, you have the choice between all the possib......
詳細は、こちら