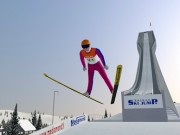 Deluxe Ski Jump 4 is an addictive, physics-based, ski jumping game.
You control the movement of the ski jumper with intuitive mouse controls.
First you have to do a well-timed and powerful takeoff, then find the most aerodynamic flight angles, and finally make a smooth telemark landing to please the judges.
All your movements are simulated accurately according to real-world physics.
De......
詳細は、こちら