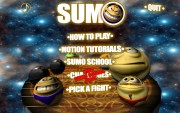 SUMO is a fun, physics-based combat/puzzle game where you guide your character through SUMO School before undertaking Survival Quests and Challenges.
SUMO features next-generation 'Motion-Flow' technology, where the on-screen action is controlled by the player's movement... all you need is a Webcam!
It might take a few minutes to master, but with no requirement to purchase expensive console ......
詳細は、こちら