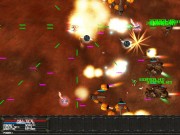 In the year 2015 an extraterrestrial force came to earth, to dominate the planet.
The superior technology from aliens bowed the human race.
Soon after a resistance group was formed, that secretly began to devise plans for the human race liberation.
For over a century this group grew and went unnoticed by the alien agents. In the course of time the resistance managed to take alien technology,......
詳細は、こちら