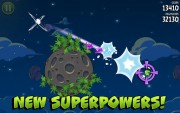 Angry Birds Space will launch simultaneously on iOS and Android, Mac and PC, animation, merchandise, and book publishing on March 22. The game hits the appstores with 60 puzzling levels, new Angry Birds characters, new superpowers, and new gameplay. More levels will be available both as free regular updates, as well as in-app purchases.
New characters and gameplay
By taking the game galactic......
詳細は、こちら