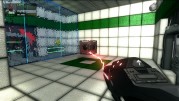 The interaction between objects with different gravity directions presents various possibilities. Thus, the player can solve in many ways each of the different puzzles across the game.
Some examples of these possibilities are:
Creating a zero gravity object by colliding two objects of the same weight and opposite gravity direction.
Softening the character's landing with a box with gra......
詳細は、こちら