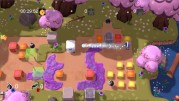 Burnstar is our twist on the action puzzle genre. It's a test of your skill and accuracy. But in this test you won't need a #2 pencil, you'll need a match, Zippo™, blowtorch, flamethrower, rocket launcher…
No worries. We've got your gear!
In Burnstar your goal is to burn vast swaths of the environment - it's okay, you're on a mission. You'll need to search out the most strategic ignition po......
詳細は、こちら