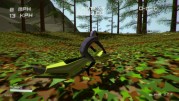 Race, joust, and play CTF on hoverbikes. No punching, kicking or weapons allowed, though. (Yes that complicates things, but don't worry. The riders can't seem to stay on their bikes anyway.)
The latest free alpha of Hoverbike Joust is available now for download.
Planned Features (for Final Version):
- A variety of hoverbikes with simple controls that are easy to learn, yet difficult t......
詳細は、こちら