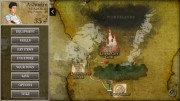 APEXICON is a game where you take words from a board of letters, much like a Boggle board, and match them to deal damage.
But that's not all. The combat, of course, is a big part, but there are other things I had in mind for the final game:
Cross-Platform Saving - Own the game on multiple platforms? Have a game on PC, and want to play it on mobile? I'm working on making this happen.
Male......
詳細は、こちら