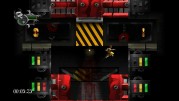 Can you make it through the 34 brutal monsters and increasingly difficult white knuckle platforming spread throughout 10 unique worlds and 5 awesome boss arenas?
For the sake of Selena's child, the last of the Wolf Clan, we hope so.
Features: Story Mode, Boss Rush, Score Rush, Hardcore, Leader Boards, 100's of collectibles, Dozens of Hidden Items
Blood of the Werewolf:公式サイト...
詳細は、こちら