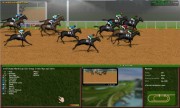 Starters Orders 4 is an accurate and in-depth horse racing strategy game.
# Free unlimited play demo game.Play a weeks racing in the UK, IRE, US and Australia!
# Train, own, breed, bet, ride and race with the most realistic horse racing game available.
# Vast horse racing game world with thousands of horses and realistic race commentary.
# Fields of up to 30 runners with the most realistic r......
詳細は、こちら