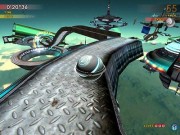 Vertigo is a high-rolling, adrenalin-fuelled combination of futuristic racing, puzzle solving and precision control.
You are a Xorber, a member of most Elite Xorb racing corp. in the galaxy. Roll thunderously across 54 wild and challenging landscapes, through 9 different worlds, each with their own unique treacherous terrain and death defying obstacles.
Upgrade your Xorb, seek hidden shortcu......
詳細は、こちら