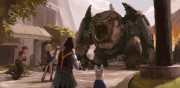 Festival of Magic is an original adventure role-playing game where the players must fight and farm their way to glory.
Festival of Magic is a throwback to the classic Japanese RPGs of yore, but puts a spin on the formula by fusing harvesting with turn-based combat.
In the game you join Amon, a desert scavenger, and his reluctant companion Gnart, as they unravel the ancient mysteries of Umb......
詳細は、こちら