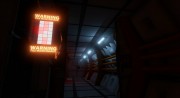 "Caffeine: a bitter alkaloid C8H10N4O2 found especially in coffee, tea, cacao, and kola nuts and used medicinally as a stimulant and diuretic"
You awaken aboard a caffeine mining space station to find yourself, a young boy seemingly all alone. The only thing you know for sure? Something bad has transpired here...
Confused and alone, you start to explore this seemingly derelict space station ......
詳細は、こちら