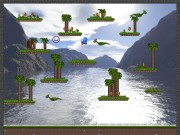 Blobsos is a story about Blobs, who are on a mission to get their ladies back. Bubble away and save the day! To complete a level, capture enemies into bubbles and then burst those bubbles by tocuhing them.
Key features:
- 50+ levels
- 5 different worlds to conquer
- Simple game mechanics, fun for everyone
- Two player cooperative gameplay
- - Singleplayer campaing is playble also in ......
詳細は、こちら