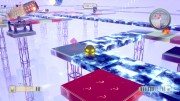 Arcade, dynamic, hardcore and minimalistic - it is the Groovy world.
Is the competition on the speed, agility and reaction.
Groovy - a robotic ball that is in abstract and crazy world.
The game has three completely different game modes.
Also, you will encounter a "hyper-levels" in which Groovy
from one game mode moves to another within one level!
It will be fun and crazy hard!
A ball......
詳細は、こちら