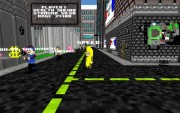 Gameplay Features:
-Unlock new champions and level them up to unlock awesome abilities, then equip them with powerful weapons and items.
-Fight larger than life bosses to unlock new areas. -Use your unlocked champions in multiplayer co-op campaigns and competitive play.
-Purchase deadly teams of AI warriors to battle with you against your friends.
FacePunchMaster...
詳細は、こちら