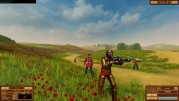 Turn-based Steampunk squad tactical combat and global strategy with emergent gameplay.
6 playable Steampunk factions:
Austro-Hungarian Empire,
British Royalists,
Chinese Dynasty,
Peoples Collective,
US Republic,
Zulu Nation.
Enemy Ai with 11 different combat tactics.
7 classes of troops, each with 4 upgrades of weapons/equipment.
Troops have unique attributes which are upgr......
詳細は、こちら