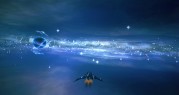 Zigfrak: A game of deep space conflict and discovery...
When the Xenoid threat was discovered, human society was thrust into an era of martial law. Security became top priority, at the cost of individual liberty.
In the face of this growing oppression, many left their homeworlds in search of freedom. The Freerunners fled, to explore and settle the new frontier planets.
When Enforcers f......
詳細は、こちら