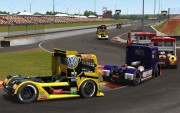 - Simulates Formula Truck´s 2012 season;
- 25 race trucks and drivers;
- 15 minutely detailed race tracks .
FORMULA TRUCK combines the best graphical and audio features with an advanced driving model, providing an unique and immersive driving experience.
The player is able to set up his truck by adjusting suspension, drivetrain, brakes and tires in order to reach the best performan......
詳細は、こちら