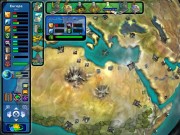 It's up to you to balance the nation's economy, power levels, food supplies, water supplies, and natural resources while working to reduce CO2 levels and keeping population happy. B(eco)me greener!
Do More! Build additional buildings to cope with the people's needs for power, food and water.
Power More! Earn enough money to keep the nation afloat and enough fuel to power the various power st......
詳細は、こちら