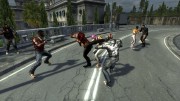 Breaking The Rules: The Roman Tournament is a third-person single and multiplayer brawl fighting game.
Advanced Fighting System completely ragdoll based, using HavokTM animation and HavokTM physic for the whole collision system and for animation/physic blending.
FCS ( Fast Combo System ) concatenates attacks boosting attack power.
Dynamic stamina management that affects gameplay.
Co-op techn......
詳細は、こちら