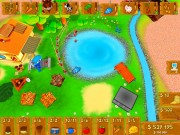 Once again you're on a cheerful farm full of friendly animals and plants. Take apropriate care of your creatures and crops and pave your way to become a millionaire.
- 9 funny buildings
- farm upgrades to speed up your crops
- modificatory machines to make different pproducts
- cartoony graphics in 3d
- variable gameplay tempo - from slow, learning-style beginning to extremely fast-paced at......
詳細は、こちら