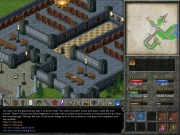 ♦ Eschalon: Book II is the sequel to 2007's award winning RPG Eschalon: Book I, although no previous experience is needed to play and enjoy Book II.
♦ Book II will be available for Windows, Macintosh (Universal Binary) and Linux-based computers.
♦ Play as a male or female character.
♦ 1024 x 768 native resolution.
♦ DRM Free! We respect our customers.
♦ New weather effects: snow, ra......
詳細は、こちら