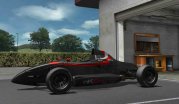 [Atomicgamer]:ダウンロードページへ
Here's the free, unlockable trial of netKar PRO, a PC-based racing car simulator with realistic physics.
[ComputerGames.ro]:ダウンロードページへ
This version introduces a new auto-update feature and the new track editor, that will allow to convert 3dsmax tracks in the nko format.
[Filefront]:ダウンロードページへ
This is the latest demo of netKar PRO, and includes a new auto-update fe......
詳細は、こちら