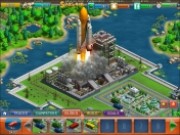 [Official Site]:ダウンロードページへ
Build a city of your dream - a residential paradise or an industrial center. Build dwelling houses and industrial buildings.
[Atomicgamer]:ダウンロードページへ
Here's the free one-hour trial for Virtual City, a city-building sim from G5 Entertainment AB.
[ComputerGames.ro]:ダウンロードページへ
[Filefront]:ダウンロードページへ
This demo gives you a chance to try out Virtual City, the city ......
詳細は、こちら