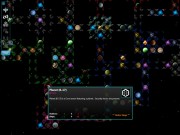 The final version will feature randomly generated content, factory building, dynamic missions, faction diplomacy and wars.
A Feature List for 1.0
* A very large galaxy map
* The ability the generate random galaxies or use hand-made ones.
* Several factions fighting for supremacy over the resources available.
* Complex faction AI, military and diplomacy.
* A dynamic universe where y......
詳細は、こちら