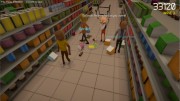 The themes used are: Elderly, Selfishness, Clumsy.
On the surface, this game is about a frail and senile elderly man blocking a supermarket aisle with his walker.
But as you play, you'll discover why he's really blocking the aisle, who or what the passers-by symbolize, and what he's trying desperately to hold on to. I won't spoil it for you.
Lord of the Aisle:公式サイト...
詳細は、こちら