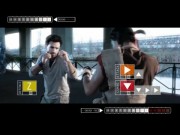 Stay Dead is the brucefilm's effort to build something fun around a simple and not yet really explored idea: to interact in real time in a movie.
Here what is NOT Stay Dead: It is not about graphic adventures, laser games or interactive movie.
Stay Dead is a REAL ARCADE-ACTION GAME, something that (probably) it was never done before.
Playing Stay Dead is like watching the movie 'Indian......
詳細は、こちら