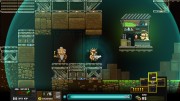 - A unique platformer with exploration, RPG and shooter elements set in a huge and hostile underground world.
- 6 to 10 hours of gameplay to finish the main quest.
- an infinity of world randomly generated for extended longevity (thousands of seamlessly streaming screens to explore).
- discover hidden chests, collect loot dropped from enemies including a gazillion of randomly generated firea......
詳細は、こちら